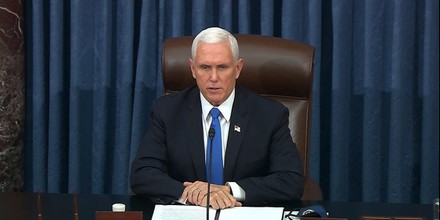 By Grace Panetta
Business Insider
March 22, 2021
Trump continues to say that former VP Mike Pence should have tried to overturn the 2020 election.
Trump falsely told Fox News' Lisa Boothe that Pence could have "sent it back" on January 6.
Pence's role that day was limited to overseeing the electoral vote-counting process.
Former President Donald Trump incorrectly claimed that former Vice President Mike Pence could have summarily rejected entire states' Electoral College votes at the January 6 joint session of Congress in a podcast interview with Fox News' Lisa Boothe.