Jan. 6 Peaceful Protester Files Class Action on Behalf of All Jan. 6, 2021, Peaceful Protesters
Alleges DOJ/FBI Turned Into a Virtual "Gestapo" to Illegally Quash Freedom Speech, Right to Associate, and Other Fundamental Rights Under Florida Constitution
(Pensacola, Florida, December 22, 2021). Today, Larry Klayman, a former federal prosecutor in the Antitrust Division of the U.S. Department of Justice, and who as a young lawyer was on the trial team that broke up the AT&T monopoly, a U.S. Senate candidate from Florida in 2003-2004, and the founder of both Judicial Watch and Freedom Watch, filed a class action lawsuit on behalf of a Pensacola resident and Florida citizen, Jesus Rivera, who had his constitutional rights to free speech, association, and other rights under the Florida Constitution allegedly violated by special agents of the Federal Bureau of Investigation ("FBI"), at the alleged direction of FBI Director Christopher Wray. The complaint, filed in the First Judicial Court In and For Escambia County, Florida, is embedded below and is self-explanatory.
Klayman had this to say upon filing the complaint for Mr. Rivera, who had his home broken into at dawn by a scores of FBI agents who illegally arrested, interrogated him and wrongly appropriated his property in order to allegedly send a message to the disenfranchised masses, to quell free speech and the right to associate and protest against the government.
"Mr. Rivera, who traveled to Washington, D.C., to peacefully protest over the rank corruption in our federal government and the federal courts, as typified during the 2020 election challenges concerning President Donald Trump, allegedly had his rights violated by the agents of the FBI. He and others similarly situated, as members of the alleged class of persons, now seeks to use Florida courts to seek redress for his grievances. No such relief is likely before the compromised federal courts, which have done the bidding of the political establishments who put them on the federal bench."
The unconstitutional conduct as alleged in the complaint in Rivera v. Andrew S. Tokajer et al, (1st Jud. Circuit of Florida - Filing No.140801737) cannot be permitted in our democracy, which is under severe attack by politicians, elitist government officials, and compromised federal judges.
For more information and/or interview please contact Asher at Asher.andersonfw@gmail.com .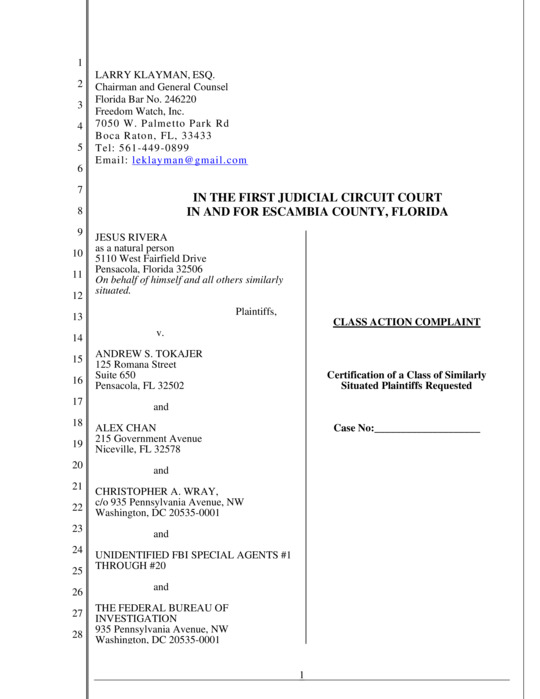 Click to View PDF
Attached:

211221-Jesus State Court Complaint Final.pdf

Your help is urgently needed!
Support our cause and join our fight!