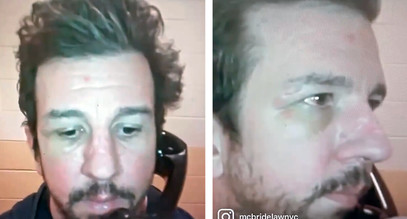 The Epoch Times
March 25, 2022
A jailed Jan. 6 defendant who previously said "I fear I may die here" after being denied celiac-safe food was "viciously" assaulted by another inmate, causing an injury that required eight stitches, his attorney said.
Christopher C. Quaglin of New Jersey has been held without bail since his arrest in April 2021 while he awaits trial on charges related to the protests and rioting at the U.S. Capitol on Jan. 6, 2021. He is charged with assaulting, resisting, or impeding police, civil disorder, and obstruction of an official proceeding. Christopher Quaglin with his wife Moria, who fears her husband could die without medical attention in federal custody. (Courtesy Quaglin Family)
In early March, Quaglin was beaten by an inmate at the Northern Neck Regional Jail in Warsaw, Virginia, according to his attorney, Joseph D. McBride. When he learned about the incident, McBride demanded an emergency video meeting with Quaglin, but that was denied, he said.