Hillary Clinton tries to escape from on-going Filegate case
Former First Lady still implicated in illegal use of FBI files during Clinton administration
(Washington, D.C., February 18, 2009). Larry Klayman's Freedom Watch, the watchdog which investigates and prosecutes government corruption and abuse to protect and preserve freedom, has received a motion for summary judgment from Secretary of State, and former First Lady and U.S. Senator Hillary Rodham Clinton in the on-going civil lawsuit which seeks to hold her accountable for illegally violating the privacy rights of American citizens she and her husband Bill Clinton viewed as political adversaries during their administration in the 1990s.
The case, first filed in 1996 when it was discovered that the Clinton White House illegally obtained FBI files on adversaries, and used them to smear them, continues to this day. Strangely, although Mrs. Clinton is the principal defendant, and although there is sworn testimony, obtained during earlier discovery that Mrs. Clinton was the mastermind of this illegal scheme, the Court has never granted Plaintiffs requests to depose her — perhaps fearing a political backlash in the scandal ridden and "politically correct" cesspool known as Washington, D.C. But now that Mrs. Clinton has moved to try to get out of the case — undoubtedly so it does not hang over her head during her years as Secretary of State — it is mandatory that she be deposed before the Court can even consider her motion to be let out of the case. Indeed, even her husband, Bill Clinton, who was president at the time, had to be deposed in the Paula Jones case. Mrs. Clinton, as Secretary of State, ranks lower than a U.S. president and the U.S. Supreme Court ruled in the Jones case that even a president is subject to deposition for his illegal acts.
"Mrs. Clinton's defense team, lead by David Kendall of Williams and Connelly, has made a tactical mistake. It is now clear that Mrs. Clinton will have to answer questions under oath about one of the worst scandals during her years in the White House. She is not above the law! And, while official Washington chooses to forget the corruption of the Clinton years, Republicans in particular having rung up a "nice" record of their own during the Bush years, it falls on Freedom Watch to get justice," stated Klayman.
"Recently, in confirming Mrs. Clinton as Secretary of State, the Senate overlooked Freedom Watch's demand to investigate Mrs. Clinton's sordid, scandal ridden past. Freedom Watch is not so kind, as we represent the American people, not the special interests of the corrupt and incestuous Democrat and Republican parties, who scratch each others' backs and think they are better than the rest of the American people such that they do not have to account for their wrongs," added Klayman.
---
URGENT: Please Sign These Petitions to Remove Mueller and Sessions and to Have Klayman Appointed as Special Counsel to Investigate the Clintons and Finally Bring Criminal Charges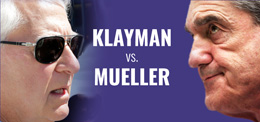 Sign Our Petition to Remove Robert Mueller as Special Counsel
We the People Call On President Trump to
Remove Robert Mueller
as Special Counsel and to Appoint
Larry Klayman
to Investigate the Clinton Email, Uranium One, and Fusion GPS Scandals! We Also Support Freedom Watch's
Lawsuit to Remove Mueller
Sign Now!
---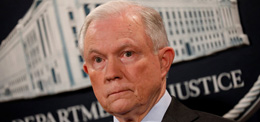 Sign Our Petition to Remove Jeff Sessions as U.S. Attorney General
We the People Call on President Trump to
Remove Jeff Sessions as Attorney General
and Replace Him With a Competent Attorney Who Has the Guts to Prosecute Hillary Clinton, James Comey, Robert Mueller, and Others That Were Part of the Corrupt, Even Treasonous, Obama Administration and Hold Them Accountable for Their Crimes!
Sessions'
Incompetence
and "
Disgraceful
" Dereliction of Duty Regarding His Inaction on Fusion GPS, the Phony Steele Dossier, and the Illegal and Unconstitutional Wiretapping of the President and His Associates Disqualify Him From the Office of Attorney General. We Demand He Resign or Be Removed!
Sign Now!

Your help is urgently needed!
Support our cause and join our fight!