Gun control complaint against Obama expanded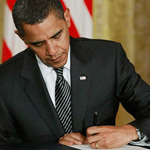 Klayman and Freedom Watch Sued to Block Implementation of Executive Orders
(Washington, D.C., January 30, 2013). Today, Larry Klayman, founder of Freedom Watch, announced that their complaint, filed in the U.S. District Court for the Middle District of Florida (Ocala Division) (5:13-CV-26-OC-22PRC), has been expanded. The original complaint (see
www.freedomwatchusa.org
), filed under the Federal Advisory Committee Act (FACA), the same law he used to take the Cheney Energy Task Force all the way to the U.S. Supreme Court for its having kept its meetings with energy lobbyists secret, and which he also invoked against the equally secretive Obamacare task force, which litigation remains in progress in federal court in Washington, D.C. (1:09-cv-02398-RWR), not only sought access to the Obama Gun Control Task Force's behind closed door meetings with special interests, but also seeks to enjoin implementation of any recommendations which flow from these meetings (the meetings violated the notice and document production provisions of FACA). (See
http://www.politico.com/story/2013/01/gun-advocates-shrug-at-obamas-executive-actions-86329.html
and
http://www.wnd.com/2013/01/obama-sued-to-stop-gun-task-force/
). This would include the executive actions which Obama announced after the first series of these meetings, the most recent of which occurred at the White House this week with sheriffs from various localities.
In addition to the prior request to enjoin implementation of Obama planned executive actions, the complaint was expanded today to add a count for Obama's failure to produce minutes of these meetings – which the advisory committee continues to refuse to produce – so the American people can see for themselves what lobbying influences are being brought to bear on Obama and Vice President Biden with regard to gun control.
"Obama and Biden promised the most open government in American history. Instead, we have seen a 'star chamber' mentality and approach. It's time that they both sobered up and respected the rule of law, as they are seeking to impose unwarranted and illegal executive actions on 'We the People' which infringe our Second Amendment rights. In light of the recent D.C. Circuit Court ruling that Obama had exceeded his executive authority with regard to an NLRB recess appointment, our case under FACA has even greater credibility. Obama's and Biden's executive actions as a result of these secret meetings are equally null and void as are the rulings of the NLRB," stated Klayman.
For an interview, contact Adrienne Mazzone: 561-750-9800 x210; amazzone@transmediagroup.com or email leklayman@yahoo.com.
---
URGENT: Please Sign These Petitions to Remove Mueller and Sessions and to Have Klayman Appointed as Special Counsel to Investigate the Clintons and Finally Bring Criminal Charges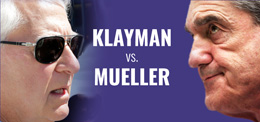 Sign Our Petition to Remove Robert Mueller as Special Counsel
We the People Call On President Trump to
Remove Robert Mueller
as Special Counsel and to Appoint
Larry Klayman
to Investigate the Clinton Email, Uranium One, and Fusion GPS Scandals! We Also Support Freedom Watch's
Lawsuit to Remove Mueller
Sign Now!
---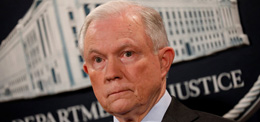 Sign Our Petition to Remove Jeff Sessions as U.S. Attorney General
We the People Call on President Trump to
Remove Jeff Sessions as Attorney General
and Replace Him With a Competent Attorney Who Has the Guts to Prosecute Hillary Clinton, James Comey, Robert Mueller, and Others That Were Part of the Corrupt, Even Treasonous, Obama Administration and Hold Them Accountable for Their Crimes!
Sessions'
Incompetence
and "
Disgraceful
" Dereliction of Duty Regarding His Inaction on Fusion GPS, the Phony Steele Dossier, and the Illegal and Unconstitutional Wiretapping of the President and His Associates Disqualify Him From the Office of Attorney General. We Demand He Resign or Be Removed!
Sign Now!

Your help is urgently needed!
Support our cause and join our fight!