(Thursday October 14, 2021) Today, Freedom Watch's Citizens' Grand Jury discussed the final stages for the three indictments involving Joe Biden for his war crimes and other crimes against humanity, Hunter Biden, James Biden, as well as Joe Biden for their involvement in bribery, money laundering, and other Fraud, and Dr. Anthony Fauci for lying to Congress and the American people, and other crimes related to COVID-19.
These Defendants will be served and summoned to appear in Citizens' Court in Arizona at the turn of the New Year. At the arraignment they will be given the opportunity to plead guilty, not guilty, or nolo contendere. At that time a trial will take place and if convicted, Freedom Watch will ask that the military and law enforcement carry out the sentence.
All three Indictments are embedded below. Tune in at www.FreedomWatchUSA.org to view the indictments and to watch the previous Citizens' Grand Jury sessions which helped build the indictments.
We the People, under the laws of nature and nature's God, as were invoked by our Founding Fathers in our Declaration of Independence on or about July 4, 1776, must reclaim our legal system, as the current compromised and Congress and the federal courts will not mete out justice. Read "It Takes a Revolution: Forget the Scandal Industry!", available at www.freedomwatchusa.org and all major booksellers on line.
For more information contact Asher Anderson at Asher.andersonfw@gmail.com if you wish to be considered to be a Citizens Grand Juror. To qualify you must not have a criminal record and swear to be impartial and non-political in your deliberations.
Anthony Fauci Indictment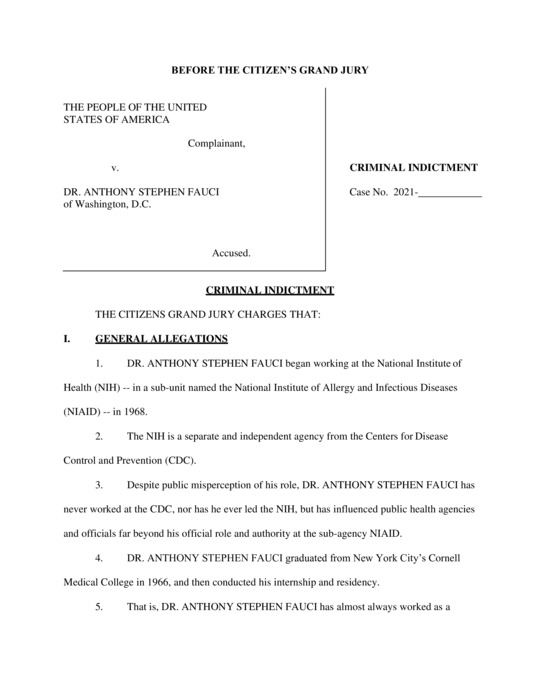 Joe Biden Indictment
Hunter/James/Joe Biden Indictment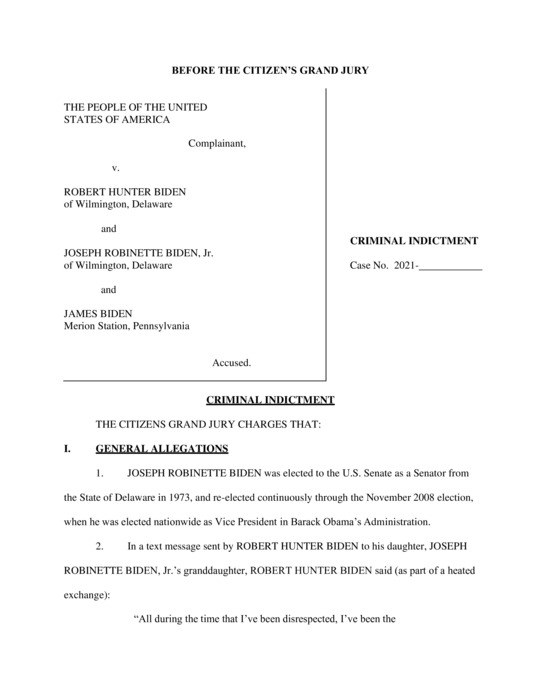 See also: Freedom Watch's Citizens' Grand Jury Reconvenes Over Indictments of the Bidens and Fauci