Freedom Watch files amicus brief with Supreme Court in support of Arizona in the controversial immigration enforcement case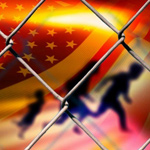 A State's Power to Protect Its Residents is Unquestionable
(February 13, 2012, Washington, D.C.). Freedom Watch, and its founder, Larry Klayman, announce the filing of their amicus brief in support of the state of Arizona in the case of Arizona v. United States, which will decide on the constitutionality of Arizona's controversial SB1070 legislation (the Act).
Arizona's passage of the Act sought to enforce federal immigration laws by enabling state officers, inter alia, to verify the immigration status of those suspected of being in the country illegally. The Obama Justice Department, which has miserably failed in securing the borders of Arizona and other states, has brought suit to strike down Arizona's law because they claim it is the sole authority of the federal government.
Freedom Watch has filed its brief supporting Arizona. While the U.S. Constitution granted the federal government the power to establish a uniform rule of naturalization, the federal government has used this clause to take over all immigration enforcement powers. Yet as drug cartels and potential terrorists sneak their way across the border, the federal government has done little to secure us from this threat.
Arizona was left with no choice but to take charge and had the constitutional authority to do so. The Constitution left the power to legislate for the health and safety of residents with the states, not with the federal government. Article I, Section 10 even allows the states to engage in war if they are invaded or faced with imminent danger. Indeed, as Freedom Watch set forth in its brief, states such as New York are claiming the capability to shoot down airplanes in order to defend against terrorist threats. Yet the Obama Justice Department has chosen not to file suit against New York, and its warlike capabilities to shoot down planes, but rather with this simple attempt by Arizona to enforce the federal government's own laws.
Freedom Watch's brief also supports Latinos who have immigrated to the United States legally and salutes their patriotism and contribution to the American way of life. It points out how Freedom Watch will take legal action if necessary to further non-discriminatory enforcement of Arizona's new law. Thus far, there has been no credible showing of any widespread discrimination despite false claims by the Obama Justice Department.
Freedom Watch's brief pulled no punches and called out the Obama Justice Department's attack on Arizona's law, for nothing more than a politically motivated lawsuit. This is also underscored by another complaint President Obama previously filed at the United Nation's Human Rights Commission against Arizona, arguably an illegal and traitorous act by an American president against his own country. Sitting on the UN Human Rights Commission are none other than our "friends" Fidel Castro's Cuba, Communist China, and Saudi Arabia (which secretly helps finance terrorism). The Obama Justice Department is also pursuing criminal and civil rights investigations against Sheriff Joe Arpaio of Maricopa County — who has led the charge for the new law — apparently for political and public relations purposes.
"President Obama, much like he did with Obamacare, is trying to ram its non-existent immigration enforcement policies down the throats of the American people and will stop at nothing to further illegal immigration to pander to elements of the electorate. This lack of enforcement is intended to benefit him and his Democratic Party during the period leading up to the 2012 elections," stated Klayman.
The Court will be hearing Oral Arguments on the case in April of 2012.
For more information or an interview call 310 595 0800 or email leklayman@yahoo.com. The brief can be found at
www.freedomwatchusa.org
. The docket number in the Supreme Court is 11-182 and a review of the file can be obtained through the court's website.
VIEW AMICUS BRIEF
---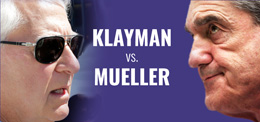 Sign Our Petition to Remove Robert Mueller and William Barr
We the People Call On President Trump to
Remove Robert Mueller
as Special Counsel and to
Replace William Barr
as the Next Attorney General With Bob Barr and to Appoint
Larry Klayman
as Special Counsel to Investigate the Clintons and Finally Bring Criminal Charges Against Them!
Sign Now!

Your help is urgently needed!
Support our cause and join our fight!