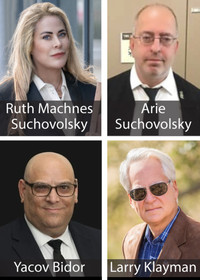 (Tel Aviv, Israel and Washington, D.C., April 7, 2020). Larry Klayman, the founder of Freedom Watch, Inc. and now chairman and general counsel, and Israeli lawyers Ruth Machnes Suchovolsky, Arie Suchovolsky, and Yacov Bidor of A. Suchovolsky & Co. Law Firm in Tel Aviv announce the filing of a class action lawsuit against China for the huge damage to health and welfare and the economy of Israel. A copy of the complaint in Hebrew is embedded below.
Previously, Klayman and Freedom Watch had filed a similar class action in federal court in Dallas, Texas. He is proud to now partner with this fine Israeli law firm, in the interests of holding the Communist Chinese government accountable for the pandemic they have caused, mostly likely the result of the release of COVID-19 from a bioweapons laboratory in Wuhan China.
This new case in Israel will move quickly in a Jerusalem court and will be adjudicated by a three judge panel. Already a multitude of plaintiffs in Israel, as they have in the United States in the case in Texas, are coming forward to seek justice for the crimes against humanity perpetrated by the Chinese government.
In addition to Israel, Freedom Watch is in contact with lawyers around the world from Europe, to Africa, to Asia to Central and South America, to join Freedom Watch and our Israeli colleagues in our mission to hold the Communist Chinese to account, civilly and criminally for this worldwide pandemic. Just yesterday the International Criminal Court provided notice that it was processing the criminal complaint which Freedom Watch had filed against it. See www.freedomwatchusa.org.
Klayman had this to say in partnering up with A. Suchovolsky & Co. Law Firm in Israel:
"As an American and a Jew I am very gratified and feel privileged to team up with these excellent and dedicated legal counsel. Israel is America's closest ally and friend and both nations are mutually dependent on each other for their survival. Watch what we accomplish in the days and months ahead. Together we can accomplish what our governments cannot and will not do, as we are not constrained by international politics and are governed only by the rule of law and justice. With God's divine guidance, highlighted by this Passover period, I know that we will prevail, just as Moses did when, with fellow Jews in tow, God set them free from Egyptian bondage and they ultimately arrived in the promised land of Israel."
For more information contact daj142182@gmail.com or (424) 274 2579.