Federal court strains to not enter judgment against Ahmadinejad, Khamenei, and Iran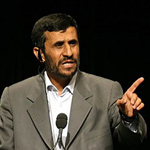 But Judge Makes Findings of Fact that Could Lead to Criminal Indictments in Spain
(Washington, D.C., June 3, 2013). Late last Friday, the Honorable Beryl Howell, a federal court judge for the U.S. District Court for the District of Columbia, after a trial last April (Civil Action No. 09-1289), issued her decision in a case that was brought by Akbar and Manouchehr Mohammadi, two student leaders who are attributed with sparking the modern day secular freedom movement in Iran. Akbar and Manouchehr were arrested, brutally tortured and in the case of Akbar, murdered. Manouchehr escaped prison, having been incarcerated under a death sentence for seven years. In addition to the brothers, their sisters Nasrin and Simin Mohammadi were parties to the suit, and they were tortured and threatened with death as well – even after the surviving family members moved to the United States and became citizens.
Earlier in the case, Judge Howell had entered a default against the defendants. But inexplicably, after the trial she has now, after several years on her docket, found that her court lacked jurisdiction to enter a default judgment, despite her making very strong findings of fact showing the barbaric sub-human brutality of the defendants.
"Despite these findings of fact, Judge Howell's decision strains to let the Iranian regime and its leaders off the hook," stated the Mohammadi's attorney Larry Klayman, founder of Judicial Watch and now the chairman of Freedom Watch. "One wonders whether listening to all of the testimony about how the Iranian regime has agents in this country who have threatened persons who oppose or take actions against it, and have plotted recently to even kill the Saudi ambassador, as well as to bomb a train from Canada to New York City, if the judge got 'cold feet,' fearing for the safety of herself and her family if she entered a punitive judgment."
Indeed, particularly at pages 24 through 32 of her decision (see
www.freedomwatchusa.org
), Judge Howell strains to find no jurisdiction under even the Alien Tort Claims Act, which she is forced to admit was enacted to allow for civil actions for human rights violations which occur in part outside of the United States. That is because admittedly there is universal jurisdiction under the Law of Nations to redress such human rights violations.
"My clients now will not only move Judge Howell for reconsideration particularly with regard to the Alien Tort Claims Act, and then file an appeal if necessary, but go to the courts in Spain, which have instituted criminal charges under such circumstances. This occurred most notably with former Chilean President Augusto Pinochet, who was indicted in Spain, arrested, tried, and convicted for his human rights abuses and crimes. It is unfortunate that Spanish courts must now be used to seek justice, while the Obama administration, Republicans including former President George W. Bush, and now Judge Howell not only have turned a blind eye to justice, but also have failed to support the Iranian freedom movement. If successful in removing the neo-Nazi mullahs in Tehran, this freedom movement could have changed the course of history by eliminating the nuclear threat from this radical Islamic terrorist state," added Klayman.
The case pleadings and the court's decision can be found at www.freedomwatchusa.org. For an interview or more information contact Dina at daj142182@gmail.com or (424) 274-2579.

Your help is urgently needed!
Support our cause and join our fight!