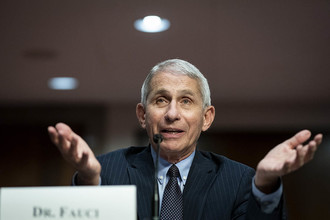 By Quint Forgey
POLITICO
July 28, 2020
Dr. Anthony Fauci on Tuesday dismissed dubious medical advice President Donald Trump shared on Twitter the previous evening, vowing to continue in his role as the country's top infectious disease expert despite a new salvo of attacks from the White House.
In an interview Tuesday morning on ABC's "Good Morning America," Fauci promoted best practices for combating the coronavirus and repeatedly contradicted the president, who tweeted more than a dozen times Monday night in defense of hydroxychloroquine as a treatment for Covid-19.
One of the messages Trump retweeted featured a video of a woman who claimed to be a Houston physician, surrounded by others in white lab coats outside what appeared to be the U.S. Supreme Court, advocating on behalf of the antimalarial medication and discouraging the use of face masks.