Pre-order 'Essays of a Mad Man' by Larry Klayman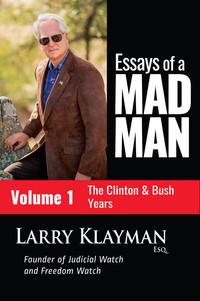 PREAMBLE:
When I founded Judicial Watch on July 29, 1994, and even after that, with my current "People's Justice Department," Freedom Watch, I never thought that the nation would sink to the low ethical, moral, irreligious, and lawless level that we now find ourselves confronting. And, while I am a perpetual optimist — I do what I do because I believe that we can be much better — I am disgusted by not just by our compromised, cowardly, and mostly corrupt political elite in Washington, D.C., and in state capitals, but also our legal system. Without a functioning, neutral, and honest judiciary at both the federal and state levels, We the People, short of having to wage another revolution, are left defenseless.
.. (Read More)
Proceeds go directly to Freedom Watch and support our fight for liberty and constitutional rights.