Default entered against Ahmadinejad and Iran in civil class action lawsuit for crimes against humanity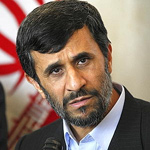 (December 9, 2011, Washington, D.C.). Today, Larry Klayman, the founder of Freedom Watch and before that Judicial Watch, announced that Judge Beryl Howell of the U.S. District Court for the District of Columbia ordered the entry of default against defendants, Mahmoud Ahmadinejad, Ayaltollah Sayid Ali Hoseyni Khamenei, the Army of the Guardians of the Islamic Revolution and the Islamic Republic of Iran, in a class action lawsuit brought by victims of the regime. Klayman is the attorney who filed the case.
The lead plaintiffs, Akbar and Manoucher Mohammadi, brothers, were the first to call for regime change during the early stages of the modern freedom movement in Iran. Akbar, was tortured and murdered in Evin prison, and Manoucher was also tortured and held for seven years, under a death sentence. Manoucher ultimately escaped and found freedom in the United States. But the case is far broader than just these two heroic freedom fighters and was brought on behalf of all of the victims of the regime, including U.S. servicemen who were murdered as a result of Iranian bounties put on their heads.
The case will now proceed to a hearing to determine damages and for entry judgment. At this trial, the testimony of the victims of the regime will be heard and resonate throughout the world. In effect, the trial could ultimately prove similar to the historic Nuremberg trials, vividly exposing in graphic detail the inhuman atrocities of this radical Islamic regime, much as occurred with the Nazis, in a court of law.
This suit is not only important to obtain justice for the victims and their families, but at this time in history for the world to be confronted with the reality that Iran is the most heinous of all the terrorist states. Iran is a major threat to world peace, and the regime must be finally dealt with, rendered impotent, and removed by the civilized world before another "Holocaust" results. In so doing, not only will the Persian people be freed from bondage and terror, but the nuclear threat will have been largely eliminated, and Israel and the west protected from the horrors of this regime.
The court will be holding a status conference on Dec. 16th at 9:30am to schedule further proceedings.
For more information or an interview call 310 595 0800 or email leklayman@yahoo.com. The complaint and other pleadings can be found at
www.freedomwatchusa.org
. The case number in federal court is 09-1289 (BAH) and a review of the file can be obtained through the court's Pacer system and its website.

Your help is urgently needed!
Support our cause and join our fight!