D.C. Circuit sets oral argument in Klayman/Arpaio case to enjoin Obama's executive amnesty
Appeals Court Will Be First to Make Law on Constitutionality of Obama's Executive Immigration Actions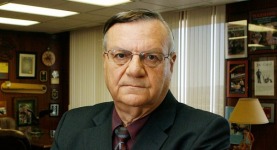 Date: May 4, 2015
Place: U.S. Circuit Court for the District of Columbia
Address: 3rd and Constitution Avenue, N.W.
(Washington, D.C., March 5, 2015). Today, Sheriff Joe Arpaio and his attorney Larry Klayman announced that the federal appeals court in the District of Columbia will hold an oral argument on their case to preliminarily enjoin President Obama and the other defendants from implementing their unconstitutional power grab to grant amnesty to over 5 million illegal aliens.
Sheriff Arpaio, with Klayman as his lawyer, filed the first lawsuit last year within days of President Obama's executive actions to block his attempted amnesty. The case, filed in the U.S. District Court for the District of Columbia, was assigned to Judge Beryl Howell, an appointee of President Obama. Perhaps predictably, she dismissed the case and, in our view, without legal bases. The dismissal came on the eve of Christmas, handing President Obama an early Christmas present. In so doing, she dodged the unconstitutionality of the President's executive actions, and this is an issue now squarely before the D.C. Circuit. In this regard, the upcoming ruling of the D.C. Circuit appellate court will be the first at this level of judicial review and the first to rule on the unconstitutionality of Obama's actions. The federal judge in Brownville, Texas, while preliminarily enjoining Obama's executive actions, did not reach this important issue, but ruled based on the administration's failure to adhere to the Administrative Procedures Act. Arpaio and Klayman participated and advocated in this Texas case as well, by filing amicus briefs.
Klayman issued this statement:
"The Sheriff and I are confident of victory before the D.C. Circuit based on any common sense analysis of the law. This will be the first appellate court ruling addressing the unconstitutionality of President Obama's executive amnesty, which sought to arrogate to himself the role of our elected representatives in Congress. The weight of this expected ruling will resonate all the way to the Supreme Court and hopefully stop the President's illegal actions in its tracks for good."
For more information, contact daj142182@gmail.com or call (424) 274-2579.

Your help is urgently needed!
Support our cause and join our fight!