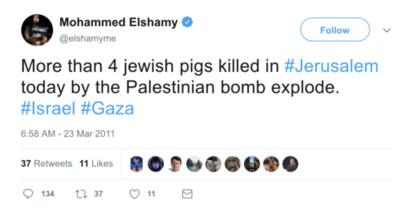 Washington Examiner
July 26, 2019
Social media posts from years ago by a CNN photo editor and writer reveal that he called Jews "pigs" and praised their deaths.
In a 2011 tweet, Mohammed Elshamy, 25, wrote, "More than 4 jewish pigs killed in #Jerusalem today by the Palestinian bomb explode. #Israel #Gaza." Elshamy joined CNN in January 2019.
The tweet was an apparent reference to the March 23, 2011 bombing of a crowded Jerusalem bus stop that injured 39 people and killed two, not four. Among them was a 14-year-old girl who remained unconscious in the hospital for six years until her death in 2017.