CIA/NSA whistleblower files Emergency Petition for Writ of Mandamus at Ninth Circuit to remove "runaway jurist" on Arpaio contempt court proceeding in Arizona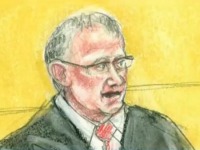 (Phoenix, Arizona, May 11, 2015). Today, an Emergency Petition for Writ of Mandamus was filed before the U.S. Court of Appeals for the Ninth Circuit (Case No. 15-71433) in San Francisco by NSA and CIA whistleblower Dennis Montgomery to compel the disqualification of federal judge G. Murray Snow for alleged egregious and continuing ethical violations and extra-judicial bias and prejudice in the ongoing contempt proceedings in
Melendres v. Arpaio
, et al. (CV-07-2513), in the U.S. District Court for the District of Arizona. As set forth in the petition, Judge Snow has unethically turned the case into a personal vindictive "witch-hunt" to allegedly cover up his wife's statements quoting the judge as intending to harm Sheriff Joe Arpaio's chances for reelection in 2016 as sheriff of Maricopa County through the contempt proceedings which Judge Snow has been holding.
The petition for writ of mandamus explains the basis for the disqualification and is supported by the sworn declaration of renowned ethics professor and expert Ronald Rotunda that was filed before the District Court. Caught in the judge's "crossfire" of his "contempt" for Sheriff Joe Arpaio is whistleblower Dennis Montgomery, whose due process, attorney/client privileges, work product and intellectual property rights have been violated. The emergency petition proved necessary when Judge Snow ignored a previous motion for disqualification and defiantly issued new orders compounding the irreparable harm to Mr. Montgomery and others.
Added Klayman, "Judge Snow's actions are outrageous. Never before have I seen such a blatant, unethical attempt by a federal judge to pursue his own interests. The Ninth Circuit must now step in to put an end to this before things get even more out of hand. The longer it takes to remove this "runaway jurist," the longer Mr. Montgomery will be subject to harm at the hands of an out of control federal judge."
For more information, or to view the Emergency Petition for Writ of Mandamus, contact Freedom Watch at daj142182@gmail.com or (424) 274-2579.
The emergency petition can be viewed at www.freedomwatchusa.org.

Your help is urgently needed!
Support our cause and join our fight!