Klayman Report
---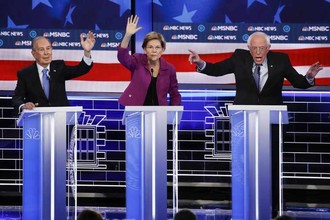 It's a pertinent question considering that two Jewish candidates currently rank first and third on the RealClearPolitics poll average of nominee preferences among Democrats. But before we discuss this sensitive topic that inevitably will burst into mainstream reporting if either Sen. Bernie Sanders or former New York City Mayor Michael Bloomberg wins the Democratic nomination — let's briefly review five equally controversial presidential electability questions both past and present.
---
---
Sentence of 40 Months Was Appropriate!
---
Larry Klayman urges Trump not to pardon his 'former buddy'
---
Pete Buttegieg and Elizabeth Warren being sued by Larry Klayman on behalf of George Zimmerman. This is going to get interesting!
---
---
---
---
---
---
---
Special Guest: Joel Gilbert, Film Producer/Writer of the Trayvon Hoax
---
---
---
---
---
Pete Buttegieg and Elizabeth Warren go after Larry's client George Zimmerman. Larry's fighting back and taking them to court!
---
---
---
EMBEDDED AND LINKED BELOW
Loading...