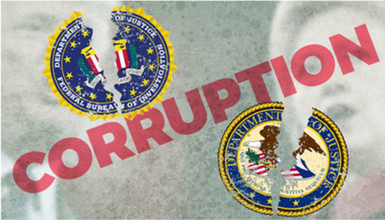 Dear Friend and Fellow Patriot,
You may know me as the only lawyer to have ever obtained a ruling that a president committed a crime.
This occurred during the administration of "Slick Willy" Bill Clinton when at Judicial Watch, which I founded, I sued him and his equally crooked wife Hillary scores of times.
I became so well known that the NBC hit drama West Wing created a character after me, "Harry Klaypool of Freedom Watch."
After I ran for the U.S. Senate in Florida in 2003-2004, I founded Freedom Watch, a public interest citizens justice department by that name, as our government had become even more corrupt.
Today, almost 20 years later, the criminality in our government has reached a stage 4 cancerous state with the Left's stooges, Joe Biden and Kamala Harris, doing their evil bidding to transform our beloved nation into a socialist, communist, and atheist hell hole!
All the while stoking race wars, opening our borders to drug and human traffickers and disease from illegal aliens, promoting rampant crime, instituting a dictatorship using the FBI and my alma mater the Department of Justice as it's own "Gestapo" to eliminate all dissent, severely harming our economy, and destroying our Judeo-Christian values from within. This is no accident. It is all intentional by the Left in order to take total control, destroy our liberty and freedom and convert our beloved nation into a communist godless state.
At Freedom Watch, we do what I used to do at Judicial Watch; hard-hitting cases, citizen's grand juries and trials, and last but not least laying the foundation to declare independence again, as our Founding Fathers did on July 4, 1776. What we urgently need is a new government by and for We the People, not a new nation!
Today, We the People have literally been enslaved by leftist tyrannical despots far worse that King George III, who was neither a socialist, communist nor atheist. The barbarians are now within our gates, so read carefully and join our cause to learn how we together can legally fight back and save our beloved nation from the leftist hordes that, in a short one year since Biden and Harris seized control, has all but been destroyed.
Now in the words of Thomas Paine in the time leading up to our first revolution, is not the time for summer soldiers and sunshine patriots.
If you want to revive the republic and reclaim it from these leftist barbarians for yourselves, children, grandchildren and future generations — particularly as we face potentially fatal threats from Putin's Russia the Islamic Republic of Iran, and North Korea — you must join our cause, not be afraid, and summon the Divine Providence of God, as our Founding Fathers did in the greatest document ever written, our Declaration of Independence.
And illegitimate President Joe Biden, a braindead, stupid and feeble so-called leader is even a bigger threat to our continued existence than these foreign threats, as he is not just a political criminal, but not up to the task of leading our country.
WE CANNOT AND MUST NOT WAIT ANOTHER 3 YEARS WITH THE HOPE THAT SOMEONE LIKE DONALD TRUMP WILL BE ELECTED PRESIDENT. IF WE WAIT AND HOPE FOR A POLITICAL MESSIAH, WHICH DOES NOT EXIST IN ANY EVENT, THERE WILL BE NO COUNTRY TO SAVE IN 3 YEARS. THINGS ARE THAT BAD!
Read on and learn how with God's grace and our hard work, we can succeed and save the nation for yourselves, children, grandchildren and future generations!
HERE IS HOW I PROPOSE TO LEGALLY
REMOVE BIDEN FROM OFFICE!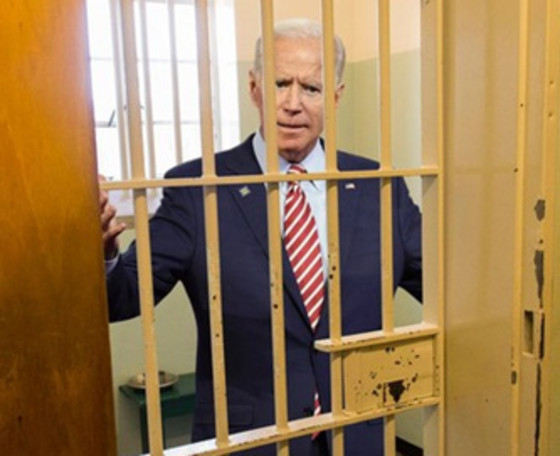 First, to avoid now almost certain domestic and international destruction at the hands of the Left and Putin's Russia, it's ally and partner President Xi's Communist China, Supreme Leader Ali Khameini of Islamic Iran, Kim Jong Jong-un of Communist North Korea, and Nicolas Maduro of Venezuela — all of whom see extreme feebleness and weakness in our illegitimate President Joe Biden — we are planning to make good on our prior criminal indictment and within the next weeks and actually try Biden for alleged bribery, laundered through his son Hunter and brother James, from no other than Russia and Communist China.
Biden will be tried in a Citizens Court, based on the allegations contained in our prior indictment, a copy of which you can find at www.freedomwatchusa.org.
It is no longer even disputed by the Left that Biden was bribed, as even the New York Times recently validated Hunter Biden's — a crack addict and sexual degenerate– lap top, which contains the hard evidence of this bribery.
And, to add to this we have evidence from the testimony of Tony Bobulinski, who revealed that while he was considering being Hunter Biden's partner in this bribery racketeering scheme, he learned that the "Big Guy," which was Joe Biden himself, was to get ten percent of the tens of millions of dollars that Hunter took in from Russia, Communist China, and even Ukraine before President Zelensky took the helm.
As evidence we also have the detailed research of Peter Scheweitzer, who revealed in his many works, this wholesale bribery racketeering scheme as well as the evidence chronicled in the recent work of Miranda Devine, titled "Laptop from Hell!", where she, having access to Hunter's emails, put the nail in Biden's coffins.
The Bidens, Joe, Hunter and James, will be tried before a citizens jury and they will be given every opportunity to defend themselves, if they choose to show up.
But if they do not, we will try them, with a judge present, in abstentia, seek their conviction, have them sentenced — and we will ask for life imprisonment.
With the strength of the evidence, which is irrefutable — there are even emails from Joe Biden's daughter asking Hunter for the money obtained from Putin's Russia, Communist China, and even a company in the Urkraine, Burisma, before President Zelensky took command and cleaned house of these criminals in his country.
In short, Biden's life imprisonment is warranted, because the alleged criminality of the Bidens is not just bribery, but also treason.
In this regard, we now can see why Biden has failed to take any meaningful action to oppose Putin, who is the modern day equivalent of Hitler, as evidenced by the new Holocaust he is now waging against the civilian population of Ukraine.
And, his next victims will be our allies in Eastern Europe and then the United States, all the while supported by his partner in President Ji of Communist China.
This is why Putin can threaten to nuke us, and he has several times, and the only response by Biden is to put sanctions on Russia. Sanctions have never worked against Russia or any other country for that matter!
Just ask another foolish failure of a president Jimmy Carter, who sanctioned the then Soviet Union, the precursor to Putin's Russia, when the commies invaded Afghanistan.
In short, sanctions and particularly economic ones are just a politician's excuse to not take hard action to end a Holocaust, that will potentially soon be coming to our shores if the braindead and feeble Biden and his equally stupid cackling witch of a vice president are left in office for another 3 years, yet along another 6 months.
And, the sanctions which Biden and the cowardly Europeans have imposed, are actually now harming you and your family, with higher costs of gasoline and fuel, as Putin and Russia retaliates, with Communist China's help, economically and with other dastardly actions. Communist China will economically and militarily support Putin, so these sanctions are a near total fraud and will have little effect.
THE BOTTOM LINE IS THIS:
IF BIDEN IS NOT LEGALLY REMOVED NOW, OUR NATION MAY BE DESTROYED WITH A ONE TWO PUNCH FROM OUR POLITICALLY CORRUPT AND BRAINDEAD PRESIDENT, WHO ALONG WITH PUTIN, RUSSIA, COMMUNIST CHINA, AND THEIR ALLIES IN IRAN, NORTH KOREA AND VENEZUELA, WANT TO SEE ALL OF US DEAD!
You may ask how we intend to enforce the requested sentence of life imprisonment. The answer is that we will charge law enforcement and the U.S. military to carry out this legitimate sentence imposed by We the People.
Our brave police and the servicemen have had it with Biden, as they are needlessly dishonored, insulted, assaulted, attacked and even killed every day, with the approval of Biden and the Left, who allow the radical blacks of the likes of Black Lives Matter, Antifa anarchists and others maim and kill our brave heroes with little to know legal consequence.
In short, law enforcement and the military are primed to carry out lawful sentences.
The preamble to our Declaration of Independence and rulings by the late Justice Anthony Scalia give We the People the right, collectively under the laws of nature and nature's God, to take legal action ourselves, when the government refuses or fails to do its job and will not represent the interests of the American people.
Indeed, Justice Scalia ruled in a case before the Supreme Court in 1992, styled United States v. Williams, and he was joined by the majority on the High Court, that the grand jury and criminal process primarily belongs to We the People, not the other three branches of government.
And, forty eight states have laws, even including ultra-leftist California, which allow for citizens arrests, with law enforcement to carry out the rest.
Fellow patriots and supporters, conservatives, libertarians, people of faith and all of you who believe in the vision and creation of our Founding Fathers, now is not the time for summer soldiers or sunshine patriots. We must be bold and must not leave it to the establishment Republicans, as they are the other side of the problem.
Even if they win back the House of Representatives in November, just remember that Biden, if he does not die a natural death from his apparent Alzheimer's, will be in office for another life threatening 3 years.
And what if anything have the Republican establishment done in the past when they had control of even all three branches of government. They would not even balance the budget, even more abolish Obamacare. And, while they had national security briefings, the establishment Republicans did not even give us a clarion call on what would become dangerous disasters in Afghanistan and now Putin's Holocaust in Ukraine, which will surely spread worldwide, with threat of nuclear annihilation.
The Republicans are great about raising money and getting re-elected from appearances on Fox News, but little else. They are all talk to raise money and acquire more power, but are otherwise essentially worthless!
Biden – through his feebleness and criminality – is in effect the partner along with Communist China, of Putin. This "Odd Couple" could cause the end of humanity as we have known it.
Biden and our other corrupt so called leaders must go and as Freedom Watch and I have advocated in our Third Continental Congress, whose sessions you can watch at www.freedomwatchusa.org, we must urgently form a new government — not a new nation — with real honest and brave leaders like Washington, Adams, Jefferson, Lincoln, Teddy Roosevelt, and Reagan! And, we must fine tune our Constitution and make it clear that our government leaders and judges do not have immunity from being held legally accountable, as they gave to themselves in today's world.
Presently, they prance around Washington, D.C., and state capitals in expensive suits and cars, thinking that and acting as if they are superior to the rest of us, who they view as ignorant peasants.
Your Freedom Watch is also bringing hard hitting lawsuits against the Chicoms for the damage they have caused over what I believe was obviously a COVID-19 bioweapon released from a military bioweapon lab in Wuhan, China.
And, we have other class action lawsuits against OPEC for monopolization of oil supplies contributing the high gas prices caused by Biden and his leftist allies.
Further, I have filed other class actions for the peaceful protesters of January 6, 2021, who have been imprisoned by Biden's Gestapo of an FBI, put before hack federal judges and imprisoned without due process as they await trial.
And then, corrupt establishment federal judges force them into forced confessions as if this were Russia, Communist China, Iran, North Korea or Venezuela, and then sentence them to prison.
While other public interest groups just amass more worthless documents to get their heads on cable news and raise more money with the false hope that our present corrupt government will bring about justice, and/or send to your fraudulent petitions to sign, your Freedom Watch does not just talk, we act!
And, as was true during our last World War II, Uncle Sam, represented by Freedom Watch, needs you now, before all is lost, to revive our economy, secure our border, end rampant crime in our streets, create a just legal system, restore race relations and Judeo-Christian values, and help avoid a World War III, which will surely happen if Biden is left in office for another 3 years, let alone 6 months!
Moses took the Hebrew people of bondage and fled Egypt and the Pharaoh to seek the Promised Land. Today, We the People must also seek a renewed Promised Land!
Biden and the Left have virtually destroyed our Promised land, bequeathed to us by our Founding Fathers. But we can find this Promised Land again with bold action and our first step is to rid the nation of Biden, as Moses did the Pharaoh with God's hand, who had enslaved the Jewish people.
But unlike Moses we do not have forty years to reclaim our nation, before it is totally destroyed internally by the left and internationally by the likes of Putin's Russia and his Communist allies.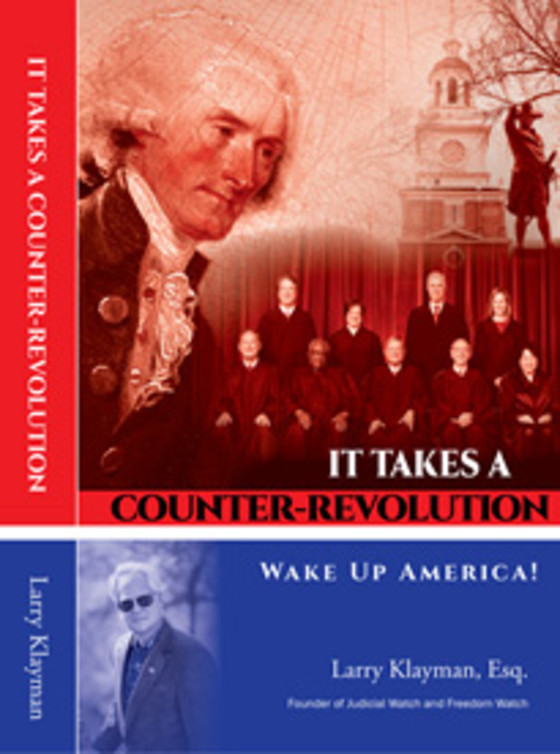 Please…will you renew your support for Freedom Watch right now and join this fight to save our beloved nation before it is too late by sending your gift of $25, $100, $500, or even another generous $1,000?
Even better, if you'll send a gift of $75.00 or more, I will send to you – free of charge – my latest freedom manifesto, my new book "It Takes a Counter-Revolution: Wake Up America!", which provides the battle plan to retake control of and reclaim the republic for your children, grandchildren, future generations and for yourselves.
Remember that God will only help us, as he did Moses and his people, if we help ourselves!
NOW IS THE TIME TO ACT, AND NOT JUST WATCH AND BE ENTERTAINED BY CABLE NEWS! TALK IS CHEAP, AND NOW WE NEED TO TAKE STRONG ACTION BEFORE ALL IS LOST!
YOURS IN FREEDOM AND LIBERTY,
Larry Klayman, Esq.
Founder of both Judicial Watch and
Current Chairman of Freedom Watch
P.S. I urgently need your help to fight to protect you, your loved ones, and to help SAVE OUR NATION!
After all, you and I can't count on a political savior to show up, or count on the Republicans in office to protect us from the leftist likes of Biden, Putin, Communist China, and their communist allies WHO SEE BIDEN AS THE FEEBLE VEHICLE TO DESTROY US!
Please donate generously with a tax deductible contribution to allow us to do our work and succeed on behalf of true Americans such as you, who like the Ukrainians have done with Putin, must risk all and fight with their lives if necessary for their liberty and freedom.