Arpaio/Klayman file appellate brief in D.C. Circuit to invalidate Obama's executive action on amnesty
Case Was First of Its Kind Filed and Will be First to Make Law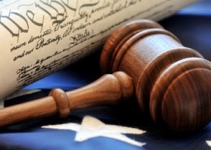 (Washington, D.C., January 29, 2015). Today, Sheriff Joe Arpaio of Maricopa County, Arizona, through his attorney Larry Klayman, a former Justice Department prosecutor and founder of Freedom Watch, filed an appellate brief before the U.S. Court of Appeals for the District of Columbia Circuit ("D.C. Circuit") (Case No. 14-5325) arguing that the lower court judge who dismissed the case committed gross legal error. Not only did Judge Beryl Howell, an Obama appointee, strangely and inexplicably find that her Court could not adjudicate a dispute between the President and Congress over who has the constitutional authority to change our immigration laws – and in Obama's case unilaterally granting amnesty to over 5 million illegal aliens – but she also strained to find that the Sheriff did not have standing to bring suit.
As set forth in the appellate brief, Judge Howell's decision to dismiss the case and not enter a preliminary injunction not only had political overtones, but it was also flat out legally incorrect. Indeed, her standing finding ignored well established case law showing that the Sheriff has been legally harmed, as he now, thanks to Obama's unconstitutional executive actions granting amnesty, has to house more illegal criminal aliens at great expense to his office.
The case filed by Arpaio and Klayman was the first one filed and it will be the first to result in an appellate court ruling. A similar case filed by 24 states is winding its way slowly through the court system in Texas. And just last Wednesday, House Speaker John Boehner belatedly announced that his Republicans would now, after months of procrastination and bombast but no action, file suit. This is likely a fundraising gimmick by the Republicans, as they should have joined with Sheriff Arpaio and Klayman from the get-go, or at least joined the 24 states in Texas earlier, if they were serious. In this regard, Klayman and Arpaio also recently filed an amicus brief in the Texas case supporting the 24 states.
Klayman had this to say upon filing the appellate brief:
"Our case will be the first to result in real law, which will undoubtedly wind its way to the Supreme Court. Time is short, and the appeals court has expedited the appellate ruling at our request, because Obama's illegal and unconstitutional executive actions will take near full effect in mid February. That is why we have pushed the courts to move quickly, to avoid more damage not just to the people of Maricopa County, but the nation as a whole."
To view the appellate brief, see
www.freedomwatchusa.org
. For more information or to schedule an interview, call (424) 274-2579 or email daj142182@gmail.com.
Attached:

150129-Final Arpaio brief with ribbon.pdf

Your help is urgently needed!
Support our cause and join our fight!