Arpaio Hits HuffPost, Rolling Stone With New Defamation Suit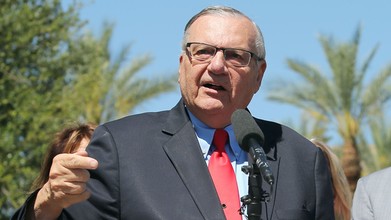 By Mike LaSusa
Law360
November 9, 2019
Law360 (November 7, 2019, 11:25 PM EST) -- Former Maricopa County, Arizona sheriff Joe Arpaio launched a fresh defamation suit on Thursday seeking more than $300 million in damages from HuffPost, Rolling Stone and journalists at both publications after recently losing a similar case in the same Washington, D.C., federal court.
Arpaio claimed the publications and journalists had defamed him, in the case of HuffPost and senior political reporter Kevin Robillard by saying Arpaio had been "sent to prison" for contempt of court, and in the case of Rolling Stone and staff writer Tessa Stuart by describing the former sheriff as an "ex-felon."
Arpaio
was convicted
of contempt — a misdemeanor — in July 2017, when an Arizona federal judge found he had continued to detain individuals not suspected of criminal activity based solely on their immigration status after a court order blocked the practice.
He did face the potential of several months in jail — not prison — but shortly after his conviction, President Donald Trump
pardoned him
in the first presidential pardon of his term.
Arpaio said the journalists' false statements, which have since been corrected, had hurt his reputation and interfered with his ability to raise money for planned runs for political office.
"Arpaio's distinguished 55-year law enforcement and political career has been severely harmed, as his reputation has been severely damaged among and with the Republican establishment," the former sheriff said.
Arpaio recently lost
a similar case
that targeted HuffPost, Rolling Stone and their journalists, and
CNN
and anchor Chris Cuomo, who had also mistakenly referred to Arpaio as a former "felon" before correcting himself.
On Oct. 31, U.S. District Judge Royce C. Lamberth tossed the suit, saying Arpaio "had not alleged any facts tending to prove actual malice."
That suit was dismissed with prejudice, but in the new suit, Arpaio says he's fixed the shortcomings Judge Lamberth identified.
"Defendants published the defamatory publications with actual malice by making a calculated decision not to verify their story because they knew or had reason to know it was false and misleading, but wanted to maliciously publish it anyway as it suited their left-leaning, open borders agenda," Arpaio said.
The former sheriff pointed out that the journalists had previously written stories that accurately described Arpaio's criminal history, which meant they either knew or had reason to know the information was false.
Arpaio's attorney, Larry Klayman of Freedom Watch Inc., told Law360 that he generally holds Judge Lamberth "in high regard," but thinks the judge got "cold feet" in the previous case.
"Maybe he thinks he's going to get smeared by the same press organizations," Klayman said, emphasizing, "You can quote me on that."
HuffPost, Robillard, Rolling Stone and Stuart did not respond on Thursday to requests for comment.
Arpaio also
recently lost
an unrelated defamation suit in the same D.C. federal court against the
New York Times
over an August 2018 column by editorial board member Michelle Cottle, which described the controversial ex-sheriff as "a disgrace to law enforcement, a sadist masquerading as a public servant" and "a true American villain."
U.S. District Judge Amit Mehta threw out the $147.5 million suit in August, saying Arpaio had had come "nowhere close to pleading sufficient facts that plausibly establish 'actual malice.'"
Arpaio is represented by Larry Klayman of Freedom Watch Inc.
Counsel information for the defendants wasn't immediately available on Thursday.
The case is Arpaio v. Robillard et al, case number
1:19-cv-03366
, in the U.S. District Court for the District of Columbia.

Your help is urgently needed!
Support our cause and join our fight!