Arpaio and Klayman strike first again and file preliminary injunction motion in lawsuit against Obama's executive order granting "amnesty" to illegal aliens
Arpaio and Klayman Were First to File Suit in U.S. District Court for the District of Columbia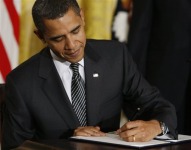 (Washington, D.C., December 4, 2014) Today, in response to President Obama's announcement of November 20, 2014, that he on his own authority
will grant legal status
in the United States to approximately 4.7 million illegal aliens, Sheriff Joe Arpaio of Maricopa County, Arizona and his
crime-fighting attorney Larry Klayman
, have filed a complaint and preliminary injunction motion with the U.S. District Court for the District of Columbia seeking to enjoin or stop this
illegal action
by President Obama. (See
www.freedomwatchusa.org
.)
Sheriff Arpaio's attorney, Larry Klayman, founder of Judicial Watch and Freedom Watch, and former federal prosecutor, is quite familiar with preliminary injunctions as
he recently succeeded in enjoining the National Security Agency
from illegally spying on American citizens who have no ties to terrorists or terrorism. (
Klayman v. Obama
(13-cv-00851)).
Upon filing this preliminary injunction, styled
Arpaio v. Obama
(14-cv-1966) filed on November 20, 2014, Klayman issued this statement:
"Obama's form of amnesty
violates the U.S. Constitution
, plain and simple. The President does not have the authority to rewrite immigration laws as legislation and national policy are enacted by Congress, not by the President. The President's executive responsibilities are to execute – that is implement – the laws enacted by Congress. As Sheriff Arpaio's attorney and friend, I salute him for being
the first to boldly challenge President Obama's unconstitutional executive order
effectively granting amnesty to illegal aliens, some of whom are hardened criminals. As he stated under oath in his Declaration, Sheriff Joe Arpaio attests that he 'found out that over 4,000 illegal aliens were in our jails over the last 8 months . . . [and] one third of the 4,000 illegal aliens arrested in Maricopa County had already been arrested previously for having committed different crimes earlier within Maricopa County under Arizona Law.'
This must not be tolerated
and must be stopped."
For more information or an interview, please contact Freedom Watch at daj142182@gmail.com or (424) 274-2579.
Attached:

141204-FINAL Motion for Preliminary Injunction.pdf
---
Urgent Petition
We the People Call On President Trump and Attorney General Sessions to Appoint Larry Klayman as Special Counsel to Investigate the Clinton Email, Uranium One, and Fusion GPS Scandals! We Also Support Freedom Watch's Suit to
Remove Robert Mueller as Special Counsel
Updated Dec. 2, 2017, to include Mueller lawsuit
Your Name:
Your Email:
Phone Number:
Street Address:
City:
State:
Zip:
Receive Freedom Watch updates
Petition Signers — Live Results
Loading...

Your help is urgently needed!
Support our cause and join our fight!