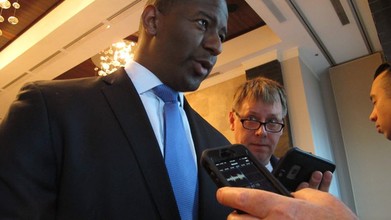 By David Smiley and David Ovalle
Tampa Bay Times
March 14, 2020
Andrew Gillum, who in 2018 came within 34,000 votes of becoming Florida's governor, was discovered by police at a South Beach hotel early Friday morning in a room with bags of possible methamphetamine and in the company of a man who appeared to have overdosed on drugs, according to a Miami Beach police report.
Police say they were called to the Mondrian South Beach early Friday morning and found paramedics treating Travis Dyson, a 30-year-old Miami man, for an apparent heart attack. They say two other men were in the room: Aldo Mejias and Gillum.
Police say Gillum, who was not arrested, was too intoxicated to answer questions. An offense incident report says that officers found three clear plastic baggies of suspected crystal meth on the bed and floor.