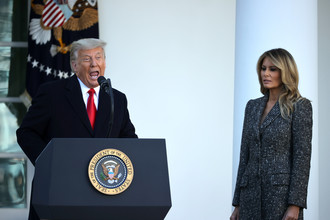 Newsweek
November 27, 2020
Fox News briefly explored whether President Donald Trump could pardon himself after he retweeted a call on Thanksgiving Day from his ally Republican Congressman Matt Gaetz to consider doing so.
After pardoning former National Security Adviser Michael Flynn, Trump on Thursday shared a call from Gaetz encouraging him to pardon himself. "Trump should pardon Michael Flynn, he should pardon the Thanksgiving Turkey, he should pardon everyone from himself to his administration officials to Joe Exotic if he has too," Gaetz told Fox News prior to Flynn's pardoning.
Following news reports of Trump's retweet, Fox News host Julie Banderas asked Reuters correspondent Jeff Mason whether he is authorized to pardon himself. "The president cannot pardon himself though, can he?" she said.