About Us
Freedom Watch is the only political advocacy group that speaks through actions, rather than just words. We are dedicated to not only preserving freedom, but redefining its meaning, from protecting our rights to privacy, free speech, civil liberties, and freedom from foreign oil and crooked business, labor and government officials, to protecting our national sovereignty against the incompetent, terrorist state-controlled United Nations, and reestablishing the rule of law in what has become a very corrupt American legal system, where justice is only as good as your lawyer and judge—most of whom are compromised ethically and otherwise.
In the image of John Adams, our second and one of our finest presidents, without ethics, morality, and religion, there will be no lasting freedom. Using these principles, President Ronald Reagan, centuries later, took on the "evil empire" of the Soviet Union and established some freedom even in that communist state. He restored pride and vision to this country in the process.
Our greatest challenge—as we face a deep economic crisis, a government that spends our tax dollars like a drunken sailor, and a new Obama-Clinton regime that is using the economic crisis as an excuse to turn our nation into a socialist Euro-style welfare state—is to remain constant to the principles of our Founding Fathers, not only Adams, but Thomas Jefferson, Benjamin Franklin and others who put their lives on the line for our freedom. Freedom Watch is dedicated to doing just that, with total regard for the rights of all persons, whatever their ethnicity, race, religion, sex or otherwise. By promoting true American values at home and around the world, through actions, frequently with hardhitting legal cases and other means, Freedom Watch will be at the forefront of preserving freedom for our children and grandchildren. We need your help and immediate and strong financial support to succeed in the face of those who would effectively put us in a "straight jacket" by having government control and regulate every aspect of our lives! These people, now in control of our government, worship at the altar of government! We at Freedom Watch worship our freedom, given to us by our creator, with certain unalterable alienable rights! Long live the United States of America and long live our freedom!

About Larry Klayman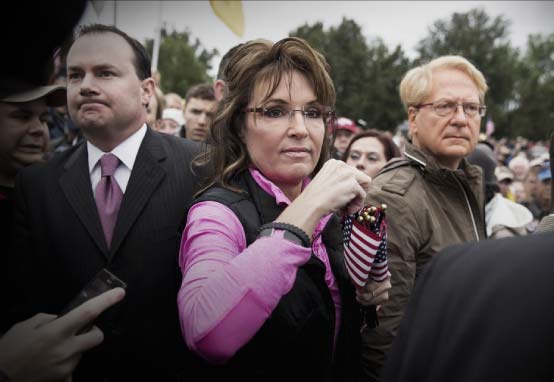 Larry with Sarah Palin and Sen. Mike Lee in Washington, D.C., Oct. 13, 2013
Larry Klayman, founder of Judicial Watch and Freedom Watch, is known for his strong public interest advocacy in furtherance of ethics in government and individual freedoms and liberties. During his tenure at Judicial Watch, he obtained a court ruling that Bill Clinton committed a crime, the first lawyer ever to have done so against an American president. Larry became so famous for fighting corruption in the government and the legal profession that the NBC hit drama series "West Wing" created a character after him...
(Read More)
---
Urgent Petition
We the People Call On President Trump and Attorney General Sessions to Appoint Larry Klayman as Special Counsel to Investigate the Clinton Email, Uranium One, and Fusion GPS Scandals! We Also Support Freedom Watch's Suit to
Remove Robert Mueller as Special Counsel
Updated Dec. 2, 2017, to include Mueller lawsuit
Your Name:
Your Email:
Phone Number:
Street Address:
City:
State:
Zip:
Receive Freedom Watch updates
Petition Signers — Live Results
Loading...

Your help is urgently needed!
Support our cause and join our fight!