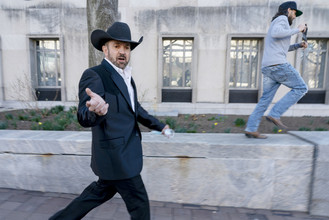 By Josh Gerstein, Kyle Cheney
POLITICO
March 22, 2022
The second trial stemming from the Jan. 6, 2021, attack on the Capitol shaped up Monday to be a lot less of a slam dunk for the Justice Department than the first.
The case of Couy Griffin, a New Mexico county commissioner and founder of Cowboys for Trump, looks to be among the most marginal of hundreds of prosecutions stemming from the unrest and violence that broke out as lawmakers were seeking to certify the results of the 2020 presidential election.
For its decision to bring Griffin to trial on two misdemeanor charges, the government paid a significant price: officially laying bare on Monday a closely held secret of the Capitol riot — the location to which Secret Service agents whisked Vice President Mike Pence before members of the mob broke through doors and rushed past police to the spot Pence had just stood minutes earlier.