It's on! Ethics complaint filed against Adam Schiff; will he respond with same honor as did Devin Nunes?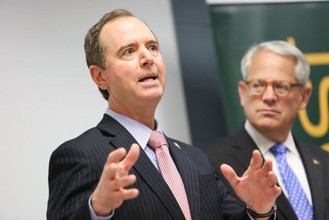 By Michael Dorstewitz
Bizpac Review
April 8, 2017
Will Schiff respond with the same honor as did Nunes?

The Washington, D.C.-based conservative governmental watchdog group Freedom Watch filed a complaint with the House Ethics Committee Thursday against Rep. Adam Schiff, ranking Democratic member of the House Intelligence Committee.

Freedom Watch founder, Larry Klayman, who also founded Judicial Watch, joined in the six-page complaint against the California Democrat.



Your help is urgently needed!
Support our cause and join our fight!