Was Justice Scalia Assassinated By Leftist Forces Tied To The Obama Administration?
Freedom Watch Has Launched An Investigation
News Articles
Supreme Court Justice Scalia Was Murdered!
http://www.nationalenquirer.com/celebrity/antonin-scalia-dead-murder-conspiracy-national-enquirer/
Texas judge defends decision not to order autopsy for Justice Scalia
https://www.washingtonpost.com/news/post-nation/wp/2016/02/16/texas-judge-defends-decision-not-to-order-autopsy-for-justice-scalia/?utm_term=.d0131c0cebfd
Scalia's death and lack of an autopsy bring out the conspiracy theorists
http://www.latimes.com/nation/la-na-scalia-conspiracy-20160217-story.html
Skipping Scalia autopsy spawns conspiracy theories
http://www.cnn.com/2016/02/16/politics/antonin-scalia-autopsy-death-conspiracy-theories/
Scalia Autopsy Decision Divides Pathologists
https://www.nytimes.com/2016/02/21/health/antonin-scalia-autopsy.html?_r=1
Support the work of Freedom Watch.
Please give a donation today!
---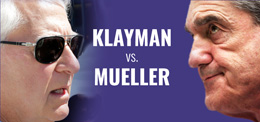 Sign Our Petition to Remove Robert Mueller and William Barr
We the People Call On President Trump to
Remove Robert Mueller
as Special Counsel and to
Replace William Barr
as the Next Attorney General With Bob Barr and to Appoint
Larry Klayman
as Special Counsel to Investigate the Clintons and Finally Bring Criminal Charges Against Them!
Sign Now!

Your help is urgently needed!
Support our cause and join our fight!