Reminder: Ilhan Omar and Rashida Tlaib Questioned the Loyalty of Americans Who Support Israel
See Complaints v. Omar Embedded Below!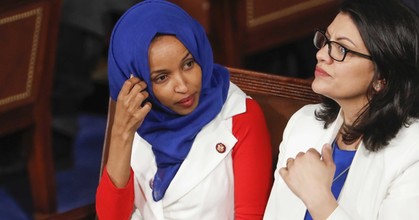 Washington Examiner
July 17, 2019
Over the weekend President Trump unleashed a series of tweets that I agreed were racist, because they lumped together four nonwhite congresswomen who he said should go back to their countries, even though three of them were born in the United States and all were citizens. But as the congresswomen who are subjects of Trump's tweet are uncritically toasted by the media, it's worth recalling that Reps. Ilhan Omar and Rashida Tlaib didn't merely generate controversy over anti-Semitic statements. They both specifically questioned the loyalty of Americans who happened to support Israel, and their statements were defended or excused by many of the same people now going after Trump.
Shortly after being sworn into office in January, Tlaib was arguing against a Senate bill that would provide more leeway for state and local governments to refuse to do business with entities that have a policy of boycotting, divesting, and/or sanctioning Israel. While there was a vibrant debate about the balancing act between combating the BDS movement and free speech, the bill itself did not actually require state or local governments to issue these rules. Also, existing laws prevent governments from contracting with businesses that engage in discriminatory practices, so state and local anti-BDS laws just define efforts to boycott Israeli Jews as another example of discrimination.
COMPLAINT FOR WRIT OF MANDAMUS TO ORDER U.S. DEPARTMENT OF HOMELAND SECURITY TO COMMENCE INVESTIGATION OF REP. ILHAN OMAR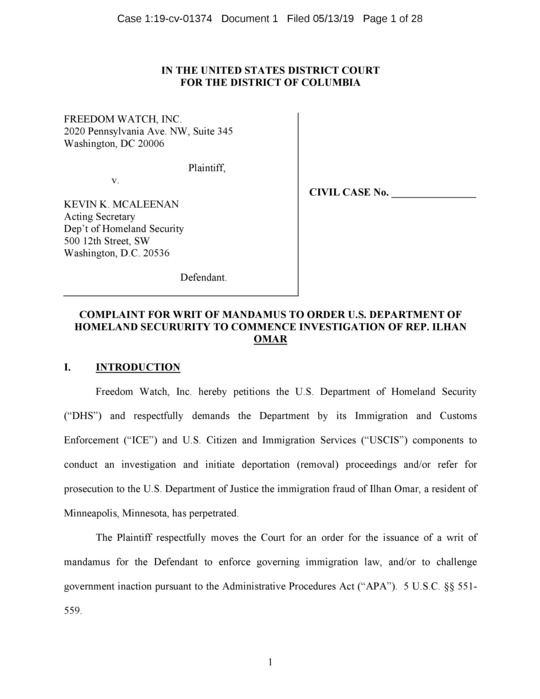 Click to View PDF
PETITION TO COMMENCE DEPORTATION PROCEEDINGS FOR REMOVAL FROM THE UNITED STATES AND/OR PROSECUTION OF ILHAN OMAR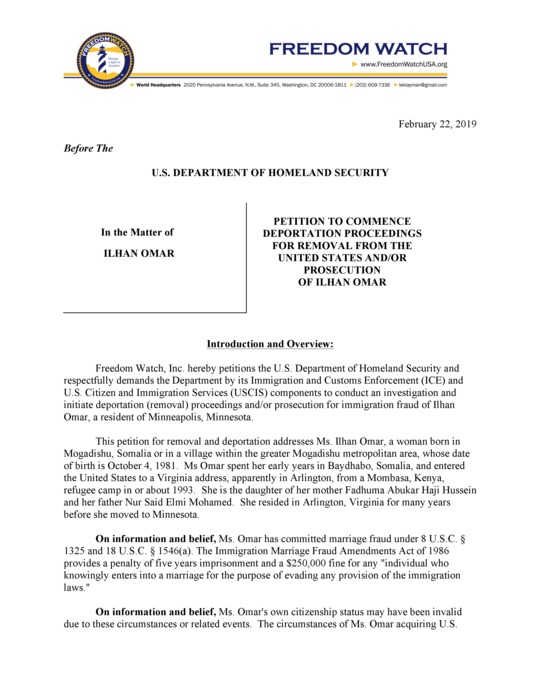 Click to View PDF

Your help is urgently needed!
Support our cause and join our fight!