Pro-Beto Group Leader Posts Video of Shirtless Bernie Sanders 'Drunkenly' Singing in Soviet Union in 1988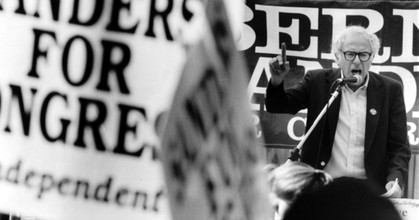 Washington Examiner
April 15, 2019
A group that is urging Beto O'Rourke to run for president has circulated newly discovered video of Sen. Bernie Sanders during a trip to the Soviet Union in 1988.

The video, which was found in an archive from May 2018, shows Sanders, I-Vt., shirtless and singing the Woody Guthrie song "This Land Is Your Land" with a group of people sitting around a table.

Travis Justin, who is part of the "leadership team" and runs "Veteran Outreach" for "Draft Beto 2020," an effort to get the Texas liberal to run for president in 2020, posted the 1988 video of Sanders, who is weighing whether to run for the White House. The website describes Justin as "a veterans advocate, social activist, family man, and well-known Twitter personality from Florida" who worked on the Obama 2012 re-election campaign and is a decorated Navy veteran.



Your help is urgently needed!
Support our cause and join our fight!