Klayman: The "Salem Feminist Witch Trials" Continue Unabated!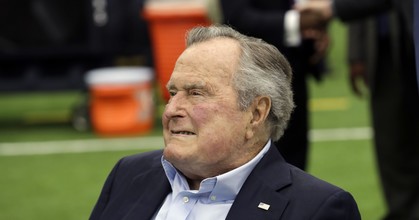 By Jessica Estepa
USA TODAY
November 14, 2017
George H. W. Bush apologized Monday after another woman said the former president groped her during a 2003 photo op when she was 16 years old.

Time magazine reported on Monday that Rosyln Corrigan is accusing Bush of groping her buttocks when she was standing next to him for a photo at a November 2003 event at a CIA office, which she attended with her parents.


---
Urgent Petition
We the People Call On President Trump and Attorney General Sessions to Appoint Larry Klayman as Special Counsel to Investigate the Clinton Email, Uranium One, and Fusion GPS Scandals! We Also Support Freedom Watch's Suit to
Remove Robert Mueller as Special Counsel
Updated Dec. 2, 2017, to include Mueller lawsuit
Your Name:
Your Email:
Phone Number:
Street Address:
City:
State:
Zip:
Receive Freedom Watch updates
Petition Signers — Live Results
Loading...

Your help is urgently needed!
Support our cause and join our fight!