Klayman: Now It's Time To "Burst the Balloon" of the American Socialist and Communist Left!
Order "It Takes a Counter-Revolution!" at Amazon.com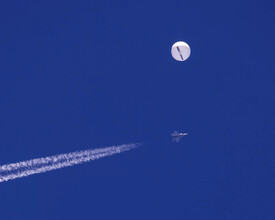 AP NEWS
February 5, 2023
WASHINGTON (AP) — The U.S. military on Saturday shot down a suspected Chinese spy balloon off the Carolina coast after it traversed sensitive military sites across North America. China insisted the flyover was an accident involving a civilian aircraft and threatened repercussions.

President Joe Biden issued the order but had wanted the balloon downed even earlier, on Wednesday. He was advised that the best time for the operation would be when it was over water, U.S. officials said. Military officials determined that bringing it down over land from an altitude of 60,000 feet would pose an undue risk to people on the ground.

China responded that it reserved the right to "take further actions" and criticized the U.S. for "an obvious overreaction and a serious violation of international practice."



Your help is urgently needed!
Support our cause and join our fight!