Klayman: JW Swimming in Documents but Not Justice! For Justice Join Freedom Watch's Justice League and Support Our Citizens Grand Juries!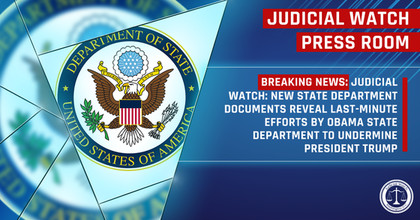 Judicial Watch
September 9, 2019
(Washington, DC) — Judicial Watch today released 90 pages of heavily redacted U.S. Department of State documents showing Obama State Department officials' efforts to disseminate classified information to multiple U.S. Senators immediately prior to President Donald Trump's inauguration. The information, which included raw intelligence, purported to show "malign" Russian interference in the 2016 presidential election. Among the senators receiving the classified documents were Sen. Mark Warner (D-VA), Sen. Ben Cardin (D-MD), and Sen. Robert Corker (R-TN).

Judicial Watch obtained the documents through a June 2018 Freedom of Information Act (FOIA) lawsuit filed against the State Department after it failed to respond to a February 2018 request seeking records of the Obama State Department's last-minute efforts to share classified information about Russia election interference issues with Democratic Senator Ben Cardin (Judicial Watch v. U.S. Department of State (No. 1:18-cv-01381)).



Your help is urgently needed!
Support our cause and join our fight!