Klayman: Joe Biden Is Braindead, Stupid, Dishonest, and Bribed to the Hilt: A Leftist Stooge Who Has Already Destroyed the Nation!
Order "It Takes a Revolution: Forget the Scandal Industry!" at BarnesandNoble.com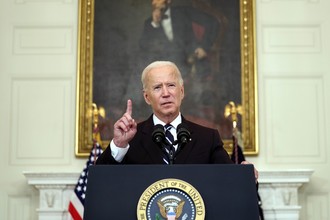 By Natasha Korecki, Christopher Cadelago
POLITICO
September 11, 2021
Joe Biden finally figured out he'd been talking to the wrong people.

For months, it was the vaccine-resistant that the president treated with kid gloves, sprinkling words like "unity" into his remarks about fighting the pandemic and sidestepping others, like "mandate," for fear he'd scare off vaccine holdouts.

In that time, Covid-19 case numbers surged. The hard-core opposition was largely unmoved. And those who got vaccinated? They're now helping drive down his poll numbers.



Your help is urgently needed!
Support our cause and join our fight!