Klayman: Having Sued and Deposed McAuliffe I Can Tell He Is Simply a Low Class Sleazeball!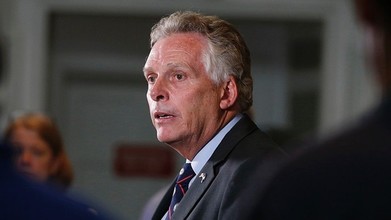 By Brian Flood
Fox News
January 12, 2018
Democratic Virginia Governor Terry McAuliffe said he would punch President Trump if he felt intimidated by him or if the president got in the governor's personal space, claiming Thursday night, "That would be the last time Donald Trump ever did that," added the longtime Clinton crony who reportedly could be considering a 2020 presidential run.

The talk turned dark after Matthews said Trump can "take people who are level headed, like Jeb Bush, and makes them look weak," and aksed McAuliffe what he would do if Trump attempted to invade his personal space the way he famously hovered over Hillary Clinton during a presidential debate.


---
Urgent Petition
We the People Call On President Trump and Attorney General Sessions to Appoint Larry Klayman as Special Counsel to Investigate the Clinton Email, Uranium One, and Fusion GPS Scandals! We Also Support Freedom Watch's Suit to
Remove Robert Mueller as Special Counsel
Updated Dec. 2, 2017, to include Mueller lawsuit
Your Name:
Your Email:
Phone Number:
Street Address:
City:
State:
Zip:
Receive Freedom Watch updates
Petition Signers — Live Results
Loading...

Your help is urgently needed!
Support our cause and join our fight!