Klayman: Duckworth Is Not A "Natural Born Citizen" Eligible to Be Vice President: Not Born in This Country to Citizen Parents!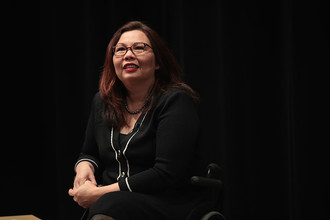 By Natasha Korecki
POLITICO
July 12, 2020
CHICAGO — Tammy Duckworth is no longer an afterthought in the Democratic veepstakes.

The Illinois senator and Purple Heart recipient has landed squarely in the conversation after a high-profile clash with Tucker Carlson last week and her advocacy against politicization of the military in the weeks prior.

The attention hasn't escaped Biden's vetting team. It has stepped up information-gathering on Duckworth recently, scrutinizing her legislative record and talking to her colleagues, according to three sources familiar with the matter.

A contingent of Duckworth-for-VP backers, including high-dollar donors and a politically active veterans group, has intensified efforts on her behalf in the past two weeks, pushing her as the best choice for Biden's running mate.



Your help is urgently needed!
Support our cause and join our fight!