Klayman: All Those Involved Should Be Criminally Charged!
Order "It Takes a Counter-Revolution!" at Amazon.com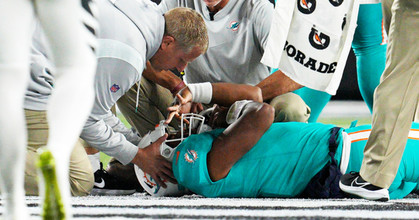 NBC News
October 3, 2022
The pro football consultant who cleared Miami Dolphins quarterback Tua Tagovailoa to play during the team's Sept. 25 game has been terminated, a source familiar with the matter said.

The consultant, who was not named, gave his approval after Tagovailoa hit his head on the turf during Miami's 21-19 home win over Buffalo. Afterward, Tagovailoa stumbled and fell to his knees.

Nonetheless, he was allowed to return to the game in the third quarter, and he played again Thursday in the Dolphins' loss to the Bengals in Cincinnati, a matchup in which Tagovailoa's head struck the turf during a sack by defensive tackle Josh Tupou. Miami Dolphins quarterback Tua Tagovailoa is examined during the Dolphins' game against the Cincinnati Bengals in Cincinnati on Thursday.Jeff Dean / AP



Your help is urgently needed!
Support our cause and join our fight!