Freedom Watch Files Complaint to Force DOJ Investigation Into Mueller Leaks and Conflicts of Interest and to Order Him Removed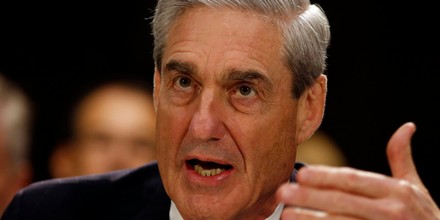 (Washington, D.C., November 27, 2017). Larry Klayman, the founder of both Judicial Watch and now Freedom Watch, and a former federal prosecutor in the Antitrust Division of the U.S. Department of Justice (Justice), announced today the filing of a Complaint for Writ of Mandamus and Injunctive Relief in the U.S. District Court for the District of Columbia (Case no. 1:17-cv-02459) to force Justice's Office of Professional Responsibility (OPR) and Inspector General (IG) to investigate the alleged criminal leaks of grand jury information that have consistently emanated from the Office of the Special Counsel, as well as the obvious conflicts of interest among the staff. The complaint, which was filed against Attorney General Jeff Sessions, FBI Director Christopher Wray and the heads of OPR and IG in their official capacities, prays that the court order that Justice expeditiously conduct investigations — as Klayman had filed an administrative complaint many months ago which was ignored — and order that Mueller be removed as special counsel based on gross prosecutorial misconduct. It is a criminal offense to leak grand jury information.
The complaint can be viewed at
www.freedomwatchusa.org
and is embedded below.
Klayman had this to say upon filing the complaint to remove Mueller as special counsel:
"Robert Mueller is not a 'man of integrity' as the Washington, D.C., Democrat and Republican political establishment like to spin. He is just another pol who is representing his establishment benefactors in both political parties who want to see the presidency of Donald Trump destroyed. Regardless, he must be held accountable to the law and should not be able to do as he pleases to further his and his friends, like former FBI Director James Comey's, political agenda. We are hopeful that the court will order Justice to do its job and conduct an expeditious and impartial investigation and then order Mueller to step down as special counsel. There are others, perhaps who practice outside of the Washington, D.C., swamp, who could step in and do an honest and conflict-free investigation of so-called Russian collusion."
For more information, contact daj142182@gmail.com or
(424) 274 2579
.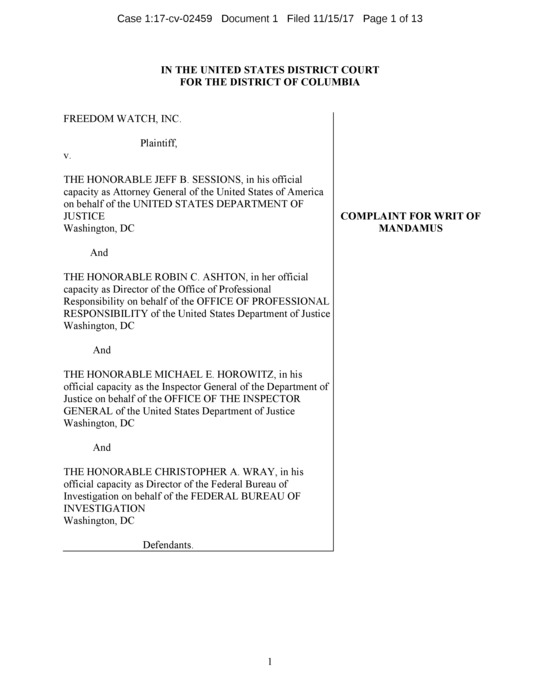 Click to View PDF
Attached:

171125-FWvSessionsWritofMandamusComplaintwithExhiits5292757-0--25143.pdf

Your help is urgently needed!
Support our cause and join our fight!