Deportation petition filed against Obama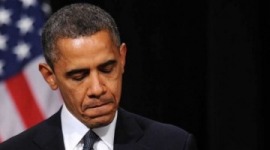 (Washington, D.C. October 3, 2014). Today, Larry Klayman, the founder of Judicial Watch and Freedom Watch, and a former U.S. Justice Department prosecutor, announced that he has filed a deportation petition against President Barack Obama, on the grounds that he has falsified various birth and other documents with regard to obtaining a U.S. passport and other privileges as an alleged American citizen.
A copy of the
petition with supporting documentation
can be found at
www.freedomwatchusa.org
.
Klayman issued the following statement upon filing the petition, which calls for an investigation and a full evidentiary hearing by immigration authorities of the Department of Homeland Security.
"It is clear, based on a mountain of evidence as set forth in and attached to the petition, that the President and his agents have falsified documents, such as his birth certificate and social security number, to qualify for the privileges of American citizenship such that his citizenship, which is based on false pretenses, must be nullified. As set forth in the petition, this includes but is not limited to the fraudulent production of a computer- generated facsimile of an official state of Hawaiian birth certificate. Even if a legitimate birth certificate exists, Obama's repeated use of a clearly forged birth certificate is still a crime and in violation of the law.
While this deportation proceeding may seem to some to be the work of conservatives who are out to get the President, this is not the case. Barack Obama's propensity to not tell the truth is now well known, even among his leftist supporters. And, his actions while President belie someone whose actions show that he feels more kinship with his foreign roots and Muslim religious schooling and heritage, than the Judeo-Christian principles upon which this nation was founded. I thus urge everyone to read and digest this petition to have him deported and remove him from the United States, before dismissing it."
For more information contact Freedom Watch at (424) 274-2579 or daj142182@gmail.com.
---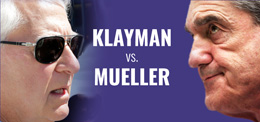 Sign Our Petition to Remove Robert Mueller and William Barr
We the People Call On President Trump to
Remove Robert Mueller
as Special Counsel and to
Replace William Barr
as the Next Attorney General With Bob Barr and to Appoint
Larry Klayman
as Special Counsel to Investigate the Clintons and Finally Bring Criminal Charges Against Them!
Sign Now!

Your help is urgently needed!
Support our cause and join our fight!