Cliven Bundy, Sons File Lawsuits Over Public Lands, Oregon Standoff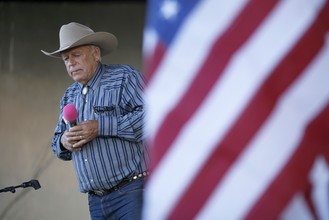 By Valerie Richardson
The Washington Times
February 8, 2018
The Bundy camp has launched a legal offensive against federal and state authorities, filing three civil lawsuits in the last two weeks challenging public-lands policy in Nevada and alleging official misconduct in the 2016 Oregon standoff.

The spate of civil suits comes with the Bundys on something of a roll after twice thwarting federal prosecutors. A federal judge on Jan. 8 threw out charges against Cliven Bundy, sons Ammon and Ryan Bundy, and Ryan Payne stemming from the 2014 Nevada standoff over prosecutorial misconduct.



Your help is urgently needed!
Support our cause and join our fight!