Biden Under Criminal Investigation by International Criminal Court
Killed Seven Young Children and Others in Afghan Drone Strike
(November 24, 2021-The Hague, Netherlands). Today, Larry Klayman, the founder of Judicial Watch and now Freedom Watch, which he currently runs, was informed by the International Criminal Court ("ICC") that it is including in its ongoing investigation and criminal proceeding of crimes against humanity in Afghanistan, the negligent homicide and manslaughter committed by President Joe Biden by ordering a drone strike that killed ten innocent Afghan social workers, including seven of their young children, the wake of the death of thirteen American servicemen. These crimes occurred after Biden had abandoned our troops and allies during the recent withdrawal.
The complaint filed by Freedom Watch against Biden and the response of the ICC's Office of the Prosecutor, are embedded below, and speak for themselves.
Larry Klayman had this to say upon receiving a letter for the ICC's Office of the Prosecutor this morning:
"It is time that Joe Biden be held accountable for his crimes against humanity. Wanting to look tough after he precipitously, in a cowardly and despicable fashion, bailed out of Afghanistan leaving thirteen U.S. servicemen dead, capitulating to the Taliban, Al Qaeda and ISIS, he then ordered a drone strike that killed ten innocent Afghans and seven of their young children. This heinous act must be punished and Biden deserves to be indicted, tried and convicted, with a life sentence meted out by the ICC. Alternatively, Freedom Watch's Citizens Grand Jury has already indicted Biden, and he will be tried in late January before a Citizens Court, where I will also, once convicted, seek a life sentence for his negligent homicide and manslaughter, as well as treason against the people of the United States."
For more information or an interview contact Asher at Asher.andersonfw@gmail.com See
www.FreedomwatchUSA.org
Letter from ICC Prosecutor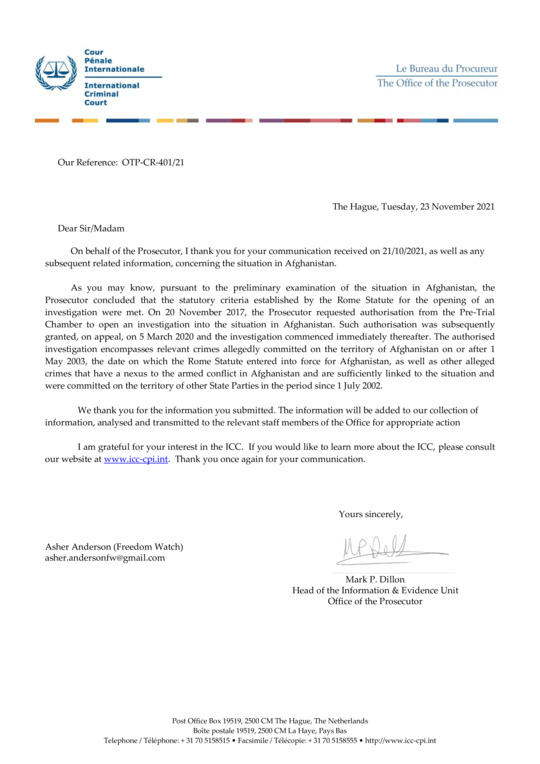 Click to View PDF
Freedom Watch complaint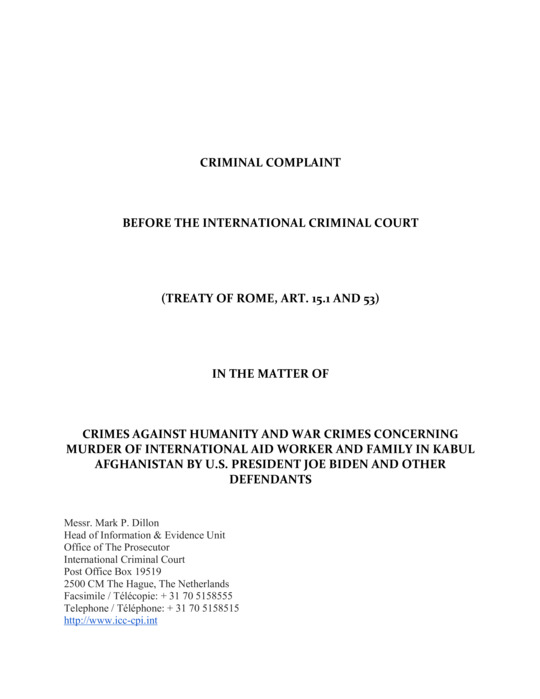 Click to View PDF

Your help is urgently needed!
Support our cause and join our fight!