Benjamin Franklin | HISTORY
Order "It Takes a Revolution: Forget the Scandal Industry!" at BarnesandNoble.com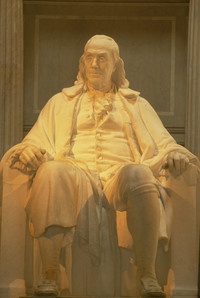 By History.com Editors
HISTORY
August 20, 2021
Benjamin Franklin (1706-1790) was a statesman, author, publisher, scientist, inventor and diplomat. Born into a Boston family of modest means, Franklin had little formal education. He went on to start a successful printing business in Philadelphia and grew wealthy. Franklin was deeply active in public affairs in his adopted city, where he helped launch a lending library, hospital and college and garnered acclaim for his experiments with electricity, among other projects. During the American Revolution, he served in the Second Continental Congress and helped draft the Declaration of Independence in 1776. He also negotiated the 1783 Treaty of Paris that ended the Revolutionary War (1775-83). In 1787, in his final significant act of public service, he was a delegate to the convention that produced the U.S. Constitution. Benjamin Franklin's Early Years

Benjamin Franklin was born on January 17, 1706, in colonial Boston. His father, Josiah Franklin (1657-1745), a native of England, was a candle and soap maker who married twice and had 17 children. Franklin's mother was Abiah Folger (1667-1752) of Nantucket, Massachusetts, Josiah's second wife. Franklin was the eighth of Abiah and Josiah's 10 offspring.



Your help is urgently needed!
Support our cause and join our fight!