Another 'Sellout Negro' Who Actually Thinks for Himself
Larry Elder spotlights vitriol hitting Kentucky AG Cameron over Breonna Taylor case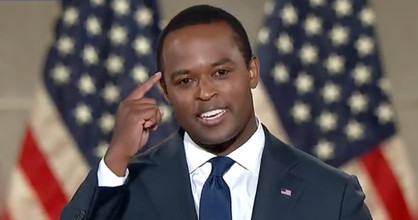 By Larry Elder
WND
October 1, 2020
Kentucky Attorney General Daniel Cameron, who spoke at the Republican National Convention, declined to bring murder charges against the three white officers involved in the tragic shooting of Louisville's Breonna Taylor, a black woman.

Contrary to the public assertion made by a Taylor family lawyer, Cameron, who is black, said the Louisville police did not go to the wrong address when executing a search warrant. Nor was Taylor shot and killed in her bed, as also publicly asserted by the family lawyer. Ben Crump, a spokesman and attorney for the Taylor family, falsely claimed the police went to the wrong address. And in a statement full of inaccuracies, Crump, who negotiated a $12 million settlement with Louisville, said, "Taylor and her boyfriend were asleep in their apartment when Louisville Police burst into the home without warning using a battering ram, in search of a suspect who was already in their custody."

Cameron carefully, methodically and with sensitivity to the Taylor family reviewed the evidence and explained why the law and facts did not warrant murder charges, however massive the intensity of the public's passion for charges. Cameron said: "Evidence shows that officers both knocked and announced their presence at the apartment. The officers' statements about their announcement are corroborated by an independent witness who was near, in a proximity to Apartment 4. ... When officers were unable to get anyone to answer or open the door to apartment four, the decision was made to breach the door." A man inside the apartment fired, striking an officer, and the officers returned fire, killing Taylor.



Your help is urgently needed!
Support our cause and join our fight!