Consumer Class Action Amended Complaint Filed Against PGA Tour, DP World Tour, NBC's Golf Channel and the Official World Golf Ranking (OWGR)
Complaint Alleges an Antitrust Conspiracy to Restrain Trade Harmful to Florida Golf Fans
(Palm Beach Country, Florida, November 8, 2022). Today, Larry Klayman, founder of both Judicial Watch and now Freedom Watch, a former federal prosecutor and U.S. Senate candidate from Florida, announced the filing of an amended class action complaint over allegations that the PGA Tour, its partner the DP World Tour (aka the European Tour), and NBC's Golf Channel, and the Official World Golf Ranking ("OWGR") have conspired and agreed in restraint of trade to eliminate the LIV Golf Tour in its infancy as a competitor to the PGA Tour and DP World Tour, thus harming not just LIV Golf and its players, but also golf fans.
Klayman, among other areas of legal expertise, is an antitrust expert, having been on the trial team in the Antitrust Division of the U.S. Department of Justice, which broke up the AT&T monopoly, creating competition in the telecommunications industry.
Now, Klayman, in his public interest capacity, has trained his sights on the Defendants, whose alleged anticompetitive acts, prohibited by the Florida Antitrust Act, Sections 542.18, 542.19, et. seq., have caused increased prices for consumers, such as Klayman and the putative class of golf fans, to purchase tickets to attend PGA Tour golf tournaments, and thus lessen competition with the new LIV Golf Tour. LIV Golf players, who are independent contractors who could historically compete on any tour, have been excluded from competing on the PGA Tour -- which they once were members of -- due to suspensions, fines and other exclusionary practices which came into effect when LIV Golf was recently born.
The alleged anticompetitive acts thus also prevent consumers from seeing LIV Golf players, all of which are accomplished and successful professionals, at PGA Tour events, thus depriving them of the full value of their ticket purchases.
The Amended Class Action Complaint alleges monopolization, attempted monopolization, group boycotts, refusal to deal and other related unfair trade practices.
NBC's Golf Channel has been joined as a Defendant, as it, like the DP World Tour, is an admitted partner of the PGA Tour, with the network owning the broadcast rights to the PGA Tour and DP World Tour. NBC's Golf Channel is alleged to be a co-conspirator, as it has waged a literal crusade to systematically defame and disparage LIV Golf and its players as murderers, accepters of blood money, and terrorist collaborators, simply because LIV Golf is financed by the Saudi Investment Fund, which not coincidentally owns a large share of Walt Disney, Boeing, and a myriad of other American companies, including Twitter. This campaign to disparage and defame LIV Golf and its players is intended to scare and put consumers at risk as collaborators, discouraging them from attending LIV Golf tournaments, not coincidentally by making LIV Golf and its players "radioactive lepers," thus furthering the anticompetitive scheme.
Defendant OWGR, which calculates and doles out world ranking points in order that professional golfers may qualify to participate in major and other golf tournaments, not coincidentally has sitting on its Board the conflicted leadership of the PGA Tour and DP World Tour. As a result LIV Golf players are being denied world ranking points to eliminate them from playing in major and other tournaments, harming consumers in this respect as well. Thus, OWGR is alleged to be a major part of the conspiracy to restrain trade in violation of Florida's antitrust laws.
Klayman had this to say upon filing the amended class action complaint in Klayman v. PGA Tour et.al, Civil Action No. 502022-CA- 006587 (15th Jud. Cir., Palm Beach County):
"Consumers, that is Florida golf fans including me, have as much right as anyone to benefit from a free market, which would allow all golf leagues and independent contractor players to fairly compete. But the Defendants have illegally worked hard to prevent this, as the PGA Tour and its co-conspirator Defendants will not tolerate honest and fair competition, as it will challenge their trillion dollar plus monopoly to totally dominate the golf world. But just like AT&T, their monopoly will be broken and the benefits will inure to the golf consumer as competition in the telecommunications industry benefitted consumers with new products and service providers, bringing down the price of service and equipment."
This complaint can be viewed below.
For more information contact Asher Anderson at Asher.andersonfw@gmail.com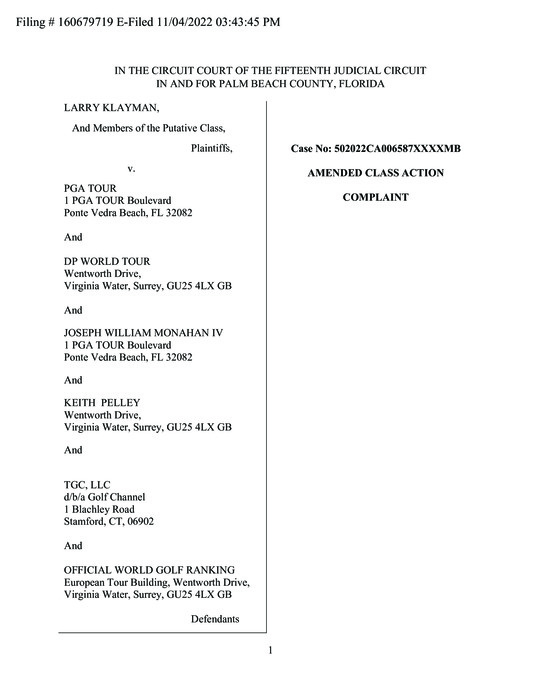 Click to View Complaint
Attached:

221108-160679719 Amended Complaint.pdf

Your help is urgently needed!
Support our cause and join our fight!